---
Free shipping worldwide on all orders
30 day money back guarantee
Satisfaction guarantee
Customers review ClickToBuy 9,1/10
Insured Delivery with tracking
---
Description
This Self-adhesive Caulking Strip provides a long-lasting seal and gives a professional look to the kitchen and bathrooms. It provides a watertight seal and prevent moisture or dirt from accumulating in the cracks with all its consequences.
Ideal for use alongside the sink, the bath, in the shower, around the toilet and so there are another 100 examples to think of. And anyone can use these Caulking strips. Measure the distance, cut it to size, pull the foil off the strip, and stick it within minutes in the desired place without tools and without dirty hands.
✔️ Anti-water and dirt- creates a moisture-resistant barrier around sinks, prevents dirt from hiding under baseboards, and prevents coarse objects from getting under the toilet.

✔️ Easy installation - Remove and stick the self-adhesive strip on the surface in a few minutes without tools, without tampering and waste.

✔️ Wide application - it is perfect for sealing bathtubs, showers and wall coverings; it can also be used to seal openings between the gas stove, sink, bathroom sink and toilet.

✔️ Multiple colors- the strips are available in multiple colors and have a length of 3 meters.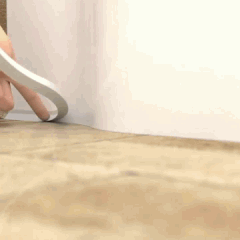 100% secure payments
Your payment information is processed securely. We do not store credit card details nor have access to your credit card information.