---
Free shipping worldwide on all orders
30 day money back guarantee
Satisfaction guarantee
Customers review ClickToBuy 9,1/10
Insured Delivery with tracking
---
Description
Cleaning the Toilet; we can not make it more fun, but we can make it easier and more hygienic! Old fashioned toilet brushes don't clean your toilet very well and the brush keeps hold of lots of bacteria. Thats why we introduce the Ecoco Toilet Brush 2.0!

This revolutionary Flex toilet brush with its flexible silicone head reaches all places, even under the rim. By using silicone on the toilet brush instead of the old-fashioned material, it prevents dirt from sticking to the brush..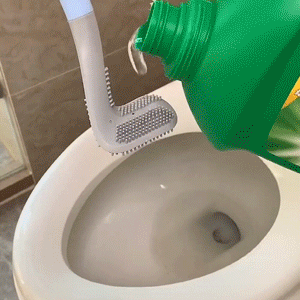 The Ecoco Toilet Brush 2.0 comes with a closed holder which opens and closes very easily. So you won't see or smell the brush.

And finally the Toilet Brush is made of strong and sustainable material. Unlike the traditional brush our brush has a long service life. That means cleaning the toilet endlessly!
Choose clean and hygienic

Why choose the Ecoco Toilet Brush 2.0:

Easily clean all corners; a versatile design that allows you to clean all corners of the toilet.

Hygienic; clean the toilet in a hygienic way, because nothing sticks to the brush.

Closed container; the holder has a closed design so that odors have no chance.

Strong and durable material; Made of strong and durable material.
Specifications

Choose from blue, green, black and white.

100% secure payments
Your payment information is processed securely. We do not store credit card details nor have access to your credit card information.