---
Free shipping worldwide on all orders
30 day money back guarantee
Satisfaction guarantee
Customers review ClickToBuy 9,1/10
Insured Delivery with tracking
---
Description
Is there anyone that likes to saw in the old fashioned way? We don't think so! But using a large petrol chainsaw for everything is a bit too much, isn't it? Fortunately, we have the ideal solution for you! Our Toollux mini Chainsaw now is an electric mini version to get things done. 

Our Mini Electric Saw is practical and will allow you to quickly complete all your sawing work. The package includes except for the min saw also a battery and charger, so you can use it directly. In addition, our Mini Electric Saw has a powerful saw blade that allows you to cut with ease. Even precision jobs are no problem for this saw.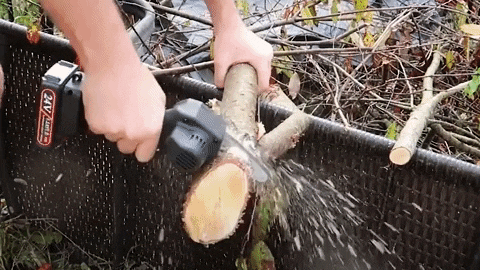 Our Mini Electric Saw has a compact model and is therefore easy to operate with one hand and to quickly store after using it. Do you want to take the saw with you? No complex packaging needed. Due to its compact size, you can easily bring this saw with you in your backpack. 

Lastly, our Mini Electric Saw is made of strong and rust-free materials. This makes this item a very pleasant tool to use due to its powerful use.

From now on you can easily and quickly complete your sawing duties in minutes.

That is why we think you should choose for our Mini Electric Saw:

• Practical and fast; our Mini Electric Saw is practical, easily and quick to use.
• Powerful blade; our Mini Electric Saw has a powerful blade which easily cuts through wood.
•  Compact and lightweight; our Mini Electric Saw is compact and lightweight, making it ideal to bring along.
• Made of strong materials; made to last for years. The chain can easily be sharpened multiple times
100% secure payments
Your payment information is processed securely. We do not store credit card details nor have access to your credit card information.